Tony James weekdays at 1pm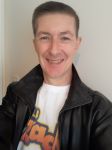 Category
Community Calender
Date
19 October 2020 00:00
There's a new sound to Lunchtimes on 105.3 Zack FM, in Forrest Heath and beyond. 
BBC and Commercial radio's Tony James is the new host of 1-3 pm weekdays. 
Tony says 'I love this area and have family here and it's exciting to be joining such a strong lineup. I've got to know many listeners already, through my successful Sunday Lunchtime Zack FM Tony James Goldmine Show on the station and I promise, we'll have as much fun on my new weekday show.I would love for you to be a part of it!'
Station boss Juice said "I first heard Tony on Radio Luxembourg in 1989 and thought this DJ is brilliant, so much enthusiasm, fun, full of life, funny and was such a personality all those years ago. Now, somehow I've managed to persuade him to do Zack lunchtimes. Tony Has a record of being extremely popular everywhere he has worked and with the freedom he has at Zack he will make lunchtime on Zack his own and different from other stations. This is great news for Zack and our listeners."
PROGRAMMES
Breakfast with Juice Weekdays
The Steve Penk Rewind Hour
Classic Rock with Jarvo
House of Zack with Mark Davis
Rick Dees in the afternoon
Emporer Rosko LA Connection
Movie Weekly with Stu
Address
Zack FM.
5A Mill St, Mildenhall, Bury Saint Edmunds IP28 7DP
Text the studio: 07480 98 62 66
Email: studio@zackfm.com (also for sales enquiries)
Switchboard: 01638 711 177 (press 1 for studio)
Sales: 07957 351 420