Zack FM's Zumba Party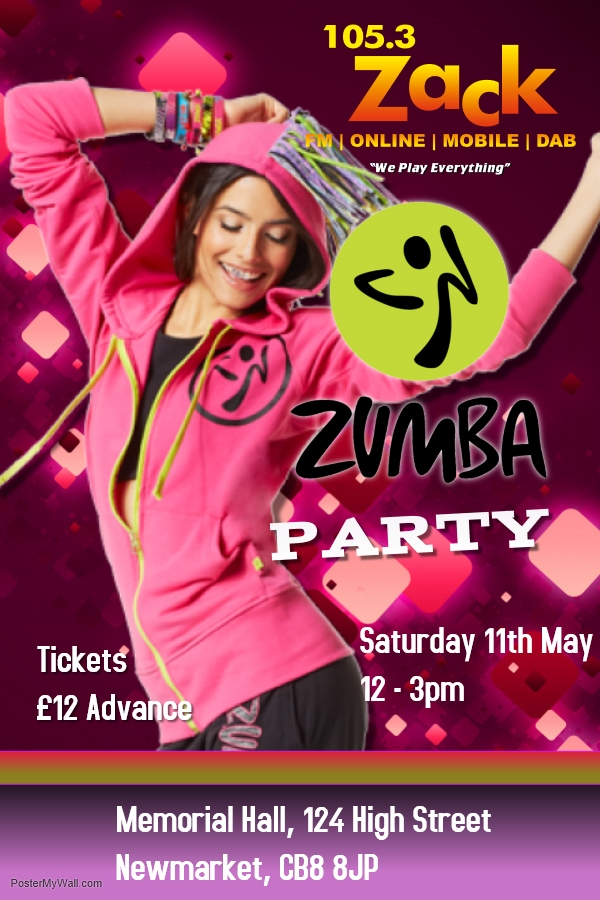 Category
Community Calender
Date
11 May 2019 12:00 - 15:00
Venue
124 HIGH STREET
Newmarket, England

Fancy Being Apart Of Our Zumba Party?
Fancy being part of an amazing event and raising money for charity? We need dozens of people to join in with our Zumba Party! Come on a musical journey through time and dress in your favourite retro outfit too!  
Date & Place
The party is being held on Saturday 11th May 2019 at The Memorial Hall Newmarket The event will take place between 12 and 3pm. You don't have to dance all the time, just come along and join the party! 
To make the event even more fun, you're welcome to dress in your best retro outfits. You could dress up as one of your favourite characters or celebrities from decades past or just choose a style! 
What's it for:
To raise money for Addenbrookes Charitable Trust. (registered charity (charity number 1170103)
How do I join in? 
Tickets can be purchased from the Zumba instructors listed below in advance or by emailing This email address is being protected from spambots. You need JavaScript enabled to view it. The cost is £12 in advance to get a wristband and take part for as long as you want. Bring your friends, family or work mates. If you get sponsored as well, even better! The Zack FM Street Team will look after you on the day and there will be other chances to raise money. Any remaining tickets will be sold on the door on the day on a first come first served basis for £15. Please be aware last year the event sold out before the day.( more details and wristbands released soon) 
Can children join in? 
This is primarily an adult event due to health and safety. Children of 10 and over are welcome to take part but must be supervised by an adult at all times. Children under 10 are not allowed to participate in the main area Prams and pushchairs are not permitted on the main dance floor.
More Info
For more details of the event, questions and info on how to get advance wristbands, please use the email: This email address is being protected from spambots. You need JavaScript enabled to view it.
The Instructors
Jewelz Nguy
Amy Bullen
Maury Vidaña
Vaiolo Nora Swanagan
Istar Inanna
Ivy May Holmes
honda Marie Nuñez
Zohre Ashraf
Shannon Hogan-House
Kirsty Louise Creasy
Mindy Hasty
This event could not take place without the help and time of these fantastic Zumba instructors above. Advance tickets can also be obtained from their classes.
Special Thanks to DBL Castles and DBL Roadshow For Providing The Lighting and Sound
www.dblcastles.co.uk 
All Dates
11 May 2019 12:00 - 15:00
MAIN MENU
PROGRAMS
Advertise With Zack FM 103.3
Address
Zack FM,
5A Mill St, Mildenhall, Bury Saint Edmunds IP28 7DP
Text  07480 98 62 66
Switchboard: (01638) 711-177
studio@zackfm.com