Welcome to Zack FM 105.3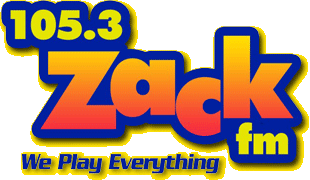 Zack FM is based in the middle of the Forest Heath Area of Suffolk Your Local radio station, within our TSA we cover three RAF bases with a large percentage of American Listeners which is ideal for local Businesses to enter into that marketplace. We broadcast's on 105.3 FM to Suffolk, Norfolk and Cambridgeshire and surrounding area's Zack FM is also available to stream live on line and via the ZackFM Radio Player APP Free from The Apple or Google play stores, also via the Tunein Radio App
 Our slogan 'We play Everything' means we get to play a massive selection of the best music from every generation and genre. Our daily playlist consists of classic hits from the 70's, 80's, 90's, the noughties, the 2010's and the freshest new music from the UK and the USA. 
Our specialist shows include Country Monday on Zack FM, with the regions number one Country DJ's from our area.
Tuesday night we focus on the local area with a look at local events, Live guests and a look at what is happening in our region, 10pm we bring you movie weekly..
Wednesday nights we have the regions Number one Rock Show, showcasing the biggest songs from the world of Rock music. From 10pm we have the biggest sporting events from the USA and local sports news as they happen.
On Thursday we have DJ Mystery with the weekend warm - up from 8pm and then from 10pm the 60 minute music jam and then from 11pm we have The Blockparty.
Friday night is Dance Night, we up the tempo and go all out Dance, with everything from deep house, to tech house and all the latest promo's and DJ Charts, From 11pm the biggest Urban Music from around the World, Hip Hop, RnB and grime, from 2am we get into the club-zone followed at 4am with the biggest dance music show direct from the USA.  Pump it up with Zack! 
Saturday we entertain you with local events as you wake up, then we bring you a big package of craziness right throughout your Saturday, which no other radio station would dare to do! Saturday nights sees Dance Anthems, then we move over to the USA with The Open House Party, which IS The BIGGEST party on your radio with lots of celebrity guests! 
Sundays are Solid Gold with over 16 hours of the greatest hits of all time, all the classic hits you remember, and some that may have forgotten! Then we bring you top American DJ Grieg Mac,  playing Funk Soul and Hip Hop.
 Our DJ's are here to entertain you day and night! Zack FM has DJ's on 24 hours a day, 7 days a week. 
In between the great songs our DJ's will make you laugh, make you think and keep you up to date with everything you need to get through your day and night! Zack FM DJ's are all fun based personality DJ'S who have the freedom to entertain you, our listeners and are not restricted to playing the same songs everyday. 
Check out our DJ's in the Zack FM Air Force Team.
Juice

DJ Juice
Hobbies and interests – I go to the gym most days, I am a bit of a workaholic so work and hobbies seem to run into each other.
Top 3 songs:
John Miles – Music
Stereophonics – Dakota
Layo Bushwacker – Love story
I originally started doing mobile disco's when I was 14 years old, then moved into DJing in bars and nightclubs across the country working with many famous PA's and bands before getting my own bar/ night club, which I currently have alongside a property development business.  My radio life began after being a big fan of Laser 558 and Radio Caroline; I started in radio with Instore Radio for New Look, then got a big break and went to work at Chiltern Radio, originally doing weather, travel and making the tea! I then progressed to my own show and the Chiltern radio Roadshow's. Soon after that I joined a station in Essex called 1557. I also worked for Jam FM, Midsummer Radio amongst others, in the mid 1990's I did a spell on Radio Caroline out in the North Sea. In 2005 I started DJing for Big L International Radio where I still currently have a show on Saturday afternoons. I started my show on Zack FM in 2011 and took over ownership of the station in 2014.
I always try to believe that if you want something enough, and you work hard enough one day it will happen for you, hopefully that day will come.
PROGRAMS
Advertise With Zack FM 103.3
105.3 Zack FM,
Address
5 Mill St, Mildenhall, Bury Saint Edmunds IP28 7DP
Text  07804 13 12 15
Switchboard: (01638) 711-177
studio@zackfm.com